Safe disposal of hazardous household products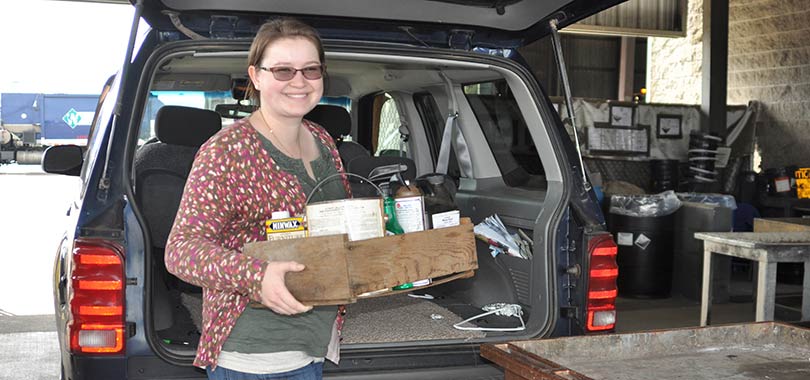 Take it to the transfer station!
Clark County residents can dispose of household hazardous waste such as paints, pesticides, poisons, automotive fluids and chemicals at the three transfer stations in Clark County on most Fridays and weekends for FREE.
Residents can drop of household hazardous waste at the following locations and times (business-generated hazardous waste will not be accepted at these sites):
Central Transfer Center Station
11034 N.E. 117th Ave.
(360) 256-8482
Friday, Saturday, and Sunday: 8 a.m. to 4 p.m.
West Van Recovery Center
6601 N.W. Old Lower River Road
(360) 737-1727
Friday and Saturday: 8 a.m. to 4 p.m.
Washougal Transfer Station
4020 S. Grant St
(360) 835-2500
First and third Saturdays: 8 a.m. to 4 p.m.
There are also twelve paint stores in Clark County that accept unused or leftover paint:
Ace Hardware, 13009 NE Hwy 99, Vancouver
Ace Hardware, 1605 W Main Street, Battle Ground
Habitat for Humanity ReStore, 10811 SE Mill Plain Blvd., Vancouver
Miller Paint, 14300 NE 20th Ave., Vancouver
Miller Paint, 11717 NE 78th Way, Vancouver
Miller Paint, 2607 NE Andresen Rd., Vancouver
Miller Paint, 111 NE 164th Ave., Vancouver
Parkrose Hardware, 16509 SE 1st St., Vancouver
Parkrose Hardware, 8000 E Mill Plain Blvd, Vancouver
Parkrose Hardware, 8002 NE 6th Avenue, Vancouver
Rodda Paint and Décor, 7723 NE 4th Plain Blvd., Vancouver
Guidelines for dropping off hazardous waste
DO:
Keep HHW products separate (do not mix).
Bring products in their original containers when possible.
Seal products to prevent leaks and spills.
Keep products away from the driver and passengers, i.e., in a trunk, truck bed, or trailer.
Keep children and pets away from collection sites and events.
DO NOT:
Exceed 25 gallons or 220 pounds of HHW at fixed HHW collection facilities (okay at the satellite collection events)
Bring asbestos, explosives/ammunition, or radioactive materials
Paint Takeback Flowchart
Click on the flowchart below to determine what to do with old oil, latex, and aerosol paints in every situation!