Green Awards
The Green Awards, previously scheduled for March 18, has been postponed.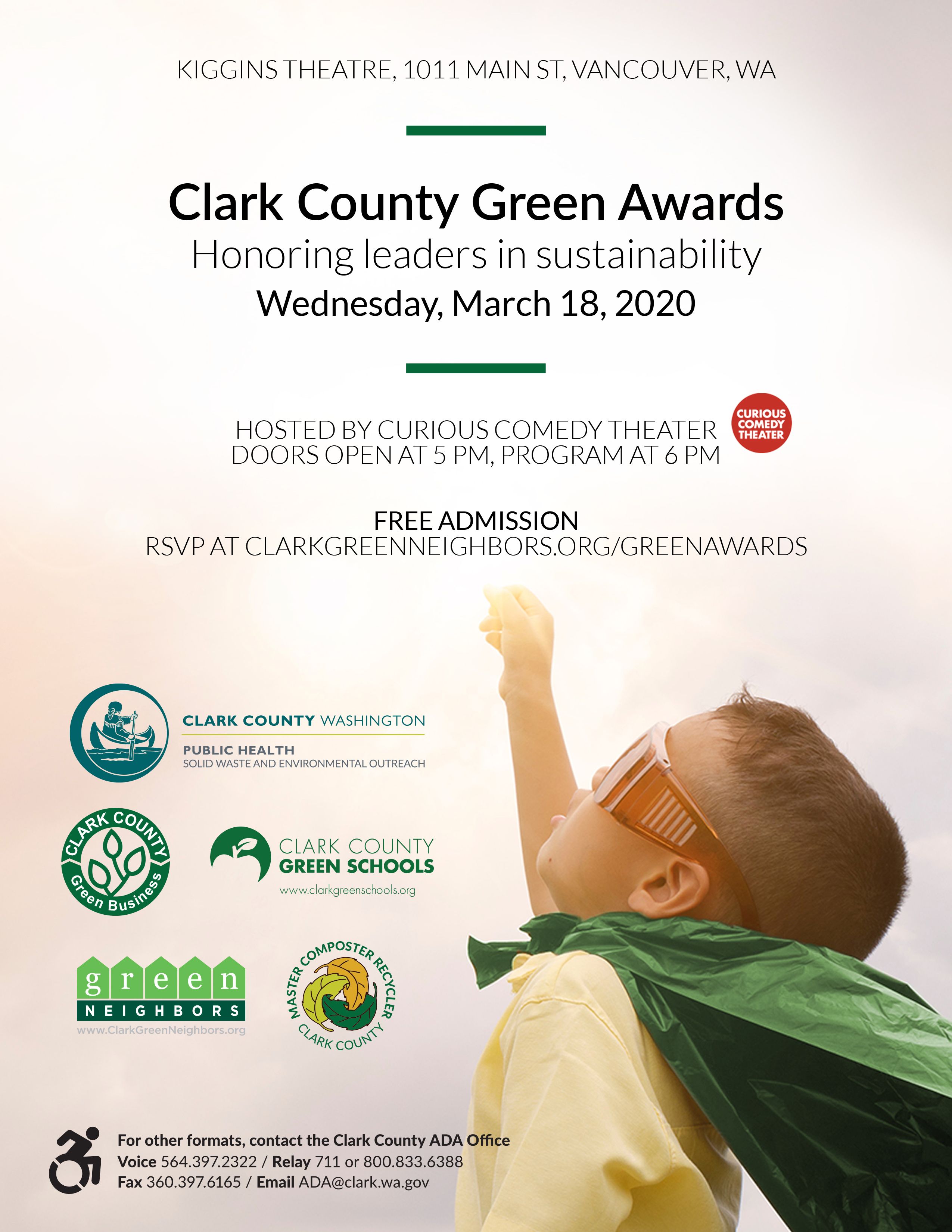 The Clark County Green Awards is an annual celebration of our community's best environmental champions. Awards are given to recognize outstanding sustainability work being done by individuals, organizations and businesses in Clark County. The awards presented are:
Green Business of the Year, 25 or fewer employees
Green Business of the Year, more than 25 employees
Green Business of the Year, nonprofit or government agency
Green Neighbor of the Year - for an individual resident who goes above and beyond in modeling green living
Green Apple Award - for an individual involved in school (public or private) sustainability initiatives, projects and programs
Master Composter Recycler Superstar - for a Master Composter Recycler program volunteer who goes above and beyond to teach others in the community to reduce waste and live sustainably, selected by previous winners of the award
2020 Clark County Green Awards
Doors open at 5 pm
Program 6 - 7:30 pm
No-host reception to follow at Pacific House
Kiggins' concessions will be open and serving, including pizza from Vancouver Pizza Company for $3 per slice.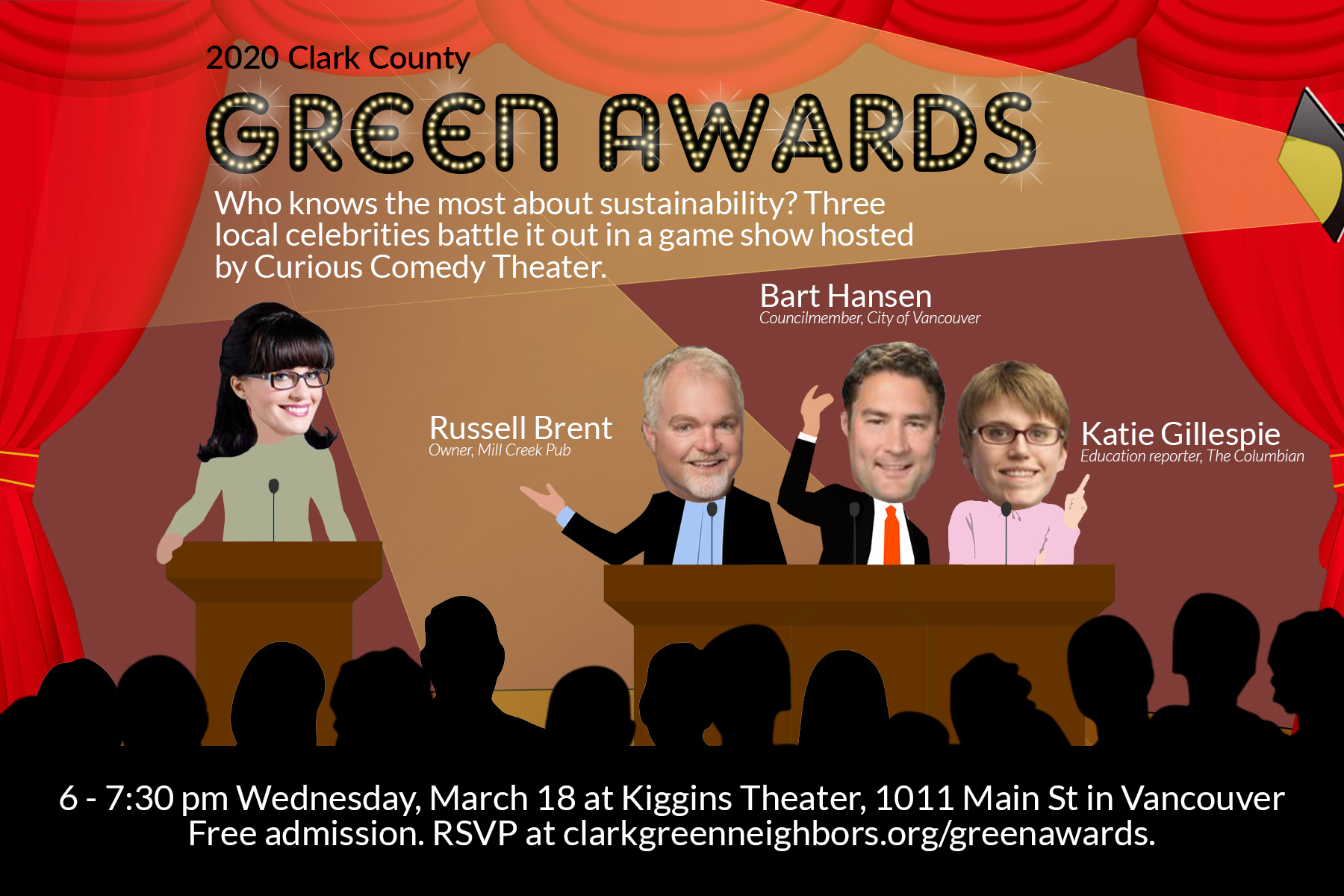 2019 Green Awards Winners
Green Apple Award
This award is presented to an individual that works in schools and inspires students to learn about the environment and to practice sustainability at school and at home.
Congratulations Rebecca Morris for winning the Green Apple Award! Rebecca led the La Center High School Environmental Action Team to platinum status with Washington Green Schools, obtaining certification in all six environmental categories.
Green Business Award (small business)
Green Business awards are presented to one small (25 employees or less), one large (26 employees or more), and one non-profit or government Green Business in Clark County that demonstrate innovative sustainability in all of their business practices.
Congratulations Barre3 Felida for winning in the small business category! Barre3 Felida reduces waste by offering towel service rather than paper towels, and encourages clients to use water bottle refilling stations and reusable bottles.
Green Business Award (large business)
Congratulations to WaferTech for winning in the large business category! The semi-conductor manufacturer has steadily reduced hazardous waste since arriving in Clark County in 1996, and acheived 100% renewable energy status in 2018.

Click here to learn more about the Green Business program
Green Business Award (nonprofit or government)
Congratulations to Columbia Springs for winning in the nonprofit or government category! Columbia Springs' historic park has sustainable design elements throughout the site, including permeable brick pavers and the Cordwood Classroom with walls consisting of clay, cordwood and recycled bottles.
Green Neighbor Award
This award is given to celebrate the work of a volunteer that goes beyond the norm to serve the community through the Green Neighbors program.
Congratulations to Kris Potter for winning! Kris has been involved in environmental work in the county for years. She's involved with the St. Joseph Parish Garden, which grows organic produce for low-income residents, and helps teach nature studies and gardening classes to local youth.
Master Composter Recycler Superstar
This award is given to a Master Composter Recycler (MCR) volunteer that goes above the call to action, serving communities throughout Clark County by teaching about composting and recycling.
Congratulations to Bill Thomas for winning the title of MCR Superstar! Bill has volunteered with the MCR program for years and teaches others in the community how to compost and recycle to make a difference for the planet.