We have resources to save you time, money, and a lot of hassle. Maintaining your property's recycling and garbage systems as well as educating residents on how to properly utilize them is important for providing your tenants with a clean and green living environment.
Are you a resident in an apartment complex that is interested in recycling? Click here.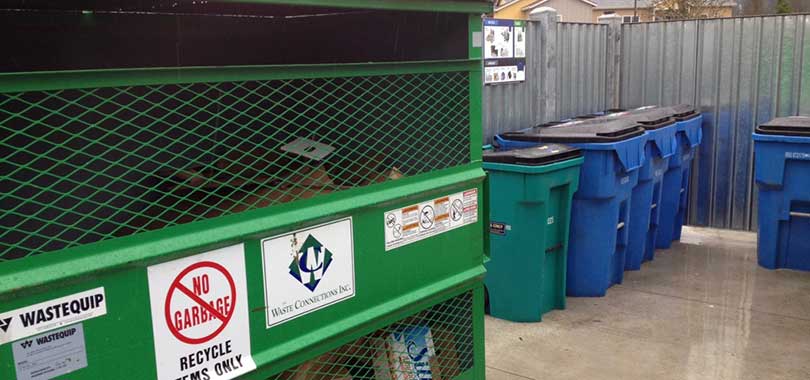 Changing your garbage and/or recycling services
Need More or Fewer Pickups? Request changes to your account by contacting Waste Connections.
Fill out a contact request form on their website.
Mailing/Site Address:
12115 NE 99th Street
Suite 1830
Vancouver, WA 98682
My recycling containers are frequently overflowing.

What can I do? You may need more containers or more frequent collection. Having the proper amount of space and number of collections is important for keeping your complex clean and organized. The Container Volume Calculator document will assist you in determining the required volumes for garbage, recycling, and glass conainers specific to your apartment complex. Download the document by clicking on the link.
Request on-site assistance.
Right size your services— Professionals will review your current service levels and suggest the appropriate changes for improvments in: amount of containers, pick-up frequency, enclosure improvements, and cost savings.

Staff Training— Free training sessions for your staff are available to help troubleshoot garbage and recycling concerns quickly.
FREE Apartment Recycling Materials
Tote Bags, Signs and Decals are provided by your regional Solid Waste partners at no additional cost. To request any of the following items fill out a Request for Supplies form. For a more detailed list of all the available free materials and their sizes, open the Multi-Family Recycle Supplies document.
Tenant Recycle Bags: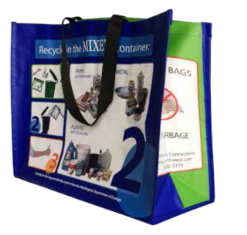 Property Signage: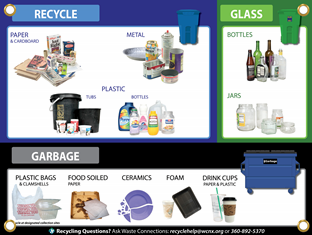 Decals: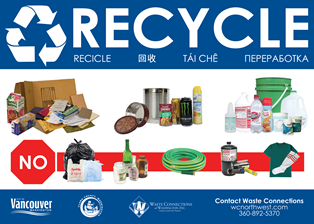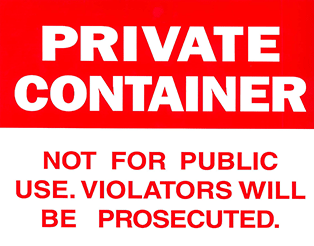 Printable Recycle Guide for Residents
This recycle guide is free to download, or hard copies can be requested for free by contacting Waste Connections. These pamphlets are a great resource to handout to new or existing residents. Give residents hard copies, or attach a digital copy to an online newsletter. To view the document, click on the following link: Printable Multi-Family Recycle Guide
For Spanish: Printable Multi-Family Recycle Guide - Spanish
For Vietnamese: Printable Multi-family Recycle Guide - Vietnamese
Informing Residents
Update rental agreements

. Integrating garbage and recycling into your rental agreement may improve your recycling system. Utilize the agreement to clearly communicate the expectations of the resident to practice proper disposal methods. Managers are welcome to incorporate any of the material from our Sample Lease Agreement. Clark County does not assume liability for content borrowed from this document.

Tenant Recycle Talks & Recycling 101

. Invite a Recycling Educator to present at your complex during a meeting or special event by contacting

[email protected]

. Furthermore, encourage residents to attend free Recycling101 classes. Classes are hosted regularly by the City of Vancouver and Waste Connections. A schedule including dates, times, and locations can be found on the City of Vancouver's website, here.

Provide a move in tour

. Before move-in, walk residents to the areas where they should bring garbage and recyclables. Ensure that tenants know where their recycling/garbage receptacles are located by including a site map with all enclosures marked and include this in their move-in packet.

Provide Ongoing Education

. Remind residents on a regular basis about your community's recycling program through newsletters, emails, and posted flyers. Consider a Community Green Team made up of residents and staff to address common issues and motivate change.
Green Apartment Living Events
Clark County property managers and maintenance staff are welcome to attend quarterly events where individuals and professionals will share best managment practices and discuss options for sustainable apartment living. Representatives from Waste Connections, Clark County and the City of Vancouver will be available to answer any questions regarding waste disposal, or general sustainability at your apartment. Join us for relaxed networking and free food at our next gathering! To receive quarterly email invitations regarding G.A.L. events, contact [email protected].
Bulky Item Disposal
Bulky items may occasionally need to be disposed of by residents. This is particularly common during move-in and move-out. Bulky items are generally defined as any item that is too large to fit in your garbage or recycling containers. Common items include furniture, appliances, and automobile tires. Advise your residents not to dump these items in your service area. Instead, recommend these options for bulky item disposal:
1. Donate for Reuse: Donate unwanted bulky items that are still in good condition to thrift or reuse stores. A comprehensive list of local stores that accept bulky items for donation can be found by searching the RecycleRight directory, using the key word "Bulky Items".
2. Drop-off bulky items at any of the three Materials Recycling Facilities in Clark County. For information on your local facility visit the Columbia Resource Company website, here.
3. Request bulky item pick-up from Waste Connections. Request services and receive a price quote by filling out the online form here.