Do you own or manage an apartment complex, condo or other housing where multiple families share trash and recycling services? There are resources available to save you time, money, and a lot of hassle.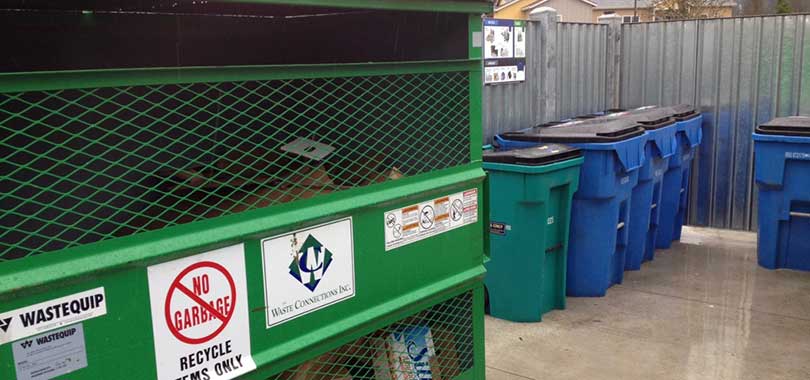 The 4Cs of Best Management Practices (BMPs) for your property:
Convenience
Is the garbage and recycling accessible to all residents? Within 150′ is ideal
Choose well-lit and centrally-located collection areas for garbage and recycling containers.
Consider these added amenities for your complex: battery recycling, plastic bag recycling, share fairs, tool library, video/book reuse area, etc.
Clarity
Labels & Signage: No signs, worn out signs or decals, outdated information? Request FREE wall signs or stickers for your carts or dumpsters. Here are some Waste Connections decals that are available.
Are your waste areas well lit? Outdoor depots that are far away from lighting will be dark in the evenings. Indoor lighting that is too dim or insufficient for residents to see can be a barrier.
Co-Location
Garbage, recycling and glass located together. Ensure recycling is located as conveniently as garbage.
Side-by-side containers make it simple and easy. Use clear signage with pictures showing which items go where.
Capacity
Need More or Fewer Garbage Pickups? Find currents garbage rates for Clark County Apartment/Multifamily Services online at Waste Connections
Need More Recycling? Recycling carts and containers can be adjusted to fit your needs at no extra cost. 1 recycle cart per 4 units is ideal, though more may be suggested if you have the space and residents are successfully recycling. Recommended capacity is 20 to 48-gallons of recycling per unit.
Bulky Item Pickup. Have mattresses, bulky furniture or items that don't fit in your compactor or garbage dumpster? Schedule a one-time or regular bulky item pick up with Waste Connections.