Washington is above average with recycling and composting accounting for 51% of the total waste stream, but we produce double the amount of waste per person than the national average! The average Washington resident produces over 7 pounds of waste every day! You can do something!
WasteBusters Challenge 2018 COMING SOON!
Stay posted for how to join the WasteBusters Challenge 2018. You can pick one of three challenges to commit to for 21 days in March, join a community of people, and learn about ways to reduce your waste and make a positive impact on the world! Participants earning more than 500 points are eligible to win one of several special prizes!
2018 Challenges

1. Fight Litter
keep a litter bag in your vehicle and commit to never litter
2. Replace Plastic
eliminate a plastic material from your lifestyle with alternative solutions
3. Waste No Food
do not throw away or compost any edible food
Related articles: Thoughtful consumption | Food: Too good to waste | Recycling Done Right | Repair Café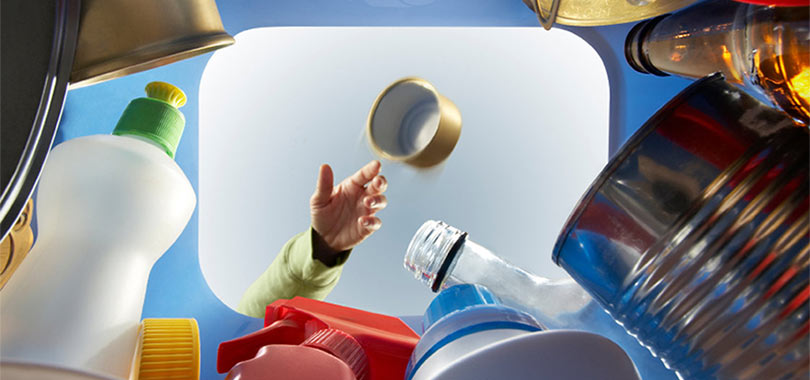 Reduce
There are many complex steps involved in the life cycle of the food we eat. From the farm to our homes and to the landfill, our food takes greater journeys than we can imagine, consuming fuel, water, and energy along the way. It takes a lot of resources to get food to our tables, and throwing it away is wasting more than just the food; it wastes all of the time, water, fuel, and energy that went into getting the food to us.
While food is lost at every step of the supply chain, consumers throw away the most, with Clark County wasting 25% of all purchased food. Many Americans don't have enough to eat, while the rest of America continues to waste good food. Reducing waste is one step towards feeding the hungry. It is time to change our habits and bust our waste!
Reuse
Buying coffee and tea to-go is so convenient and fast that billions of people have added this to their daily routine. The average American office worker will use 100–500 of these throwaway cups every year! Certainly plenty of resources and energy go into making these cups, only to be tossed after a half an hour of use.
This habit is even more wasteful as to-go coffee cups are not recyclable in Clark County. Fortunately, this is a habit that can easily accommodate a reusable cup or mug! If we transition to using our own cup or mug, we can have our cake and eat it too: drink what we want without adding to our environmental impact!
Recycle
In Clark County, 20% of our garbage includes items we could have recycled curbside, which adds up to a wasted $6 million each year! The best way to reduce this waste is not on the waste collection side, but on the side of residents and businesses. Sorting garbage after it is collected is nearly impossible, so it is up to businesses and residents to sort everything they can into their recycling cart from the start, without contaminating the recycling bin with unrecyclable items. The only thing stopping us is ourselves!
And Many More R's
Living a more sustainable and environmental-friendly lifestyle doesn't stop at a few minial changes. We must Rethink our lifestyles and the items we use. We must Retrain our habits to focus more on Repair and Regulating consumption. We must push for Remanufacturing of the items we buy to be more sustainable. We must Redesign our systems to be circular rather than lines to the dump--only then, can we Renew the Earth.