Safe and proper sharps disposal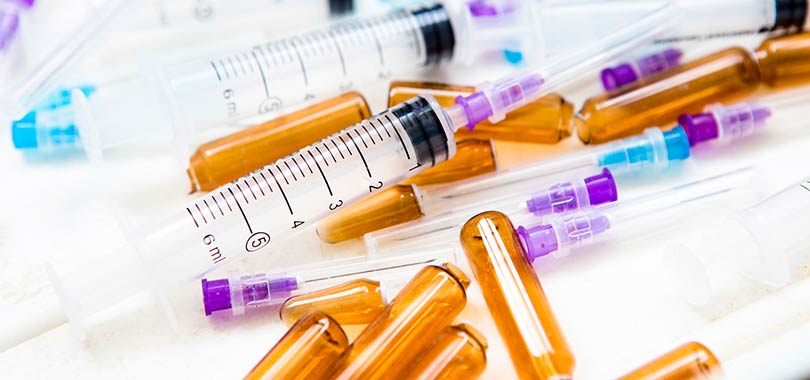 Sharps (hypodermic needles, syringes and lancets)
Used needles and lancets are dangerous because they can injure people and spread germs/disease. Victims of sharps-related injuries face the cost of post-injury testing, disease prevention measures, and counseling, even if no infection or disease was spread.
Pre-filled injector (i.e. Epipen) mail-back service is available, free of charge, to all residents upon request through MED-Project. 
 Safe disposal options for sharps
Use an approved sharps container. These are available to purchase through pharmacies and online.
If an approved sharps container is not available, use an alternative container with a well-secured lid (preferably a screw top). Rigid plastic containers are best – for example: plastic bleach or laundry detergent bottles. Do not use glass, aluminum, or thin plastic containers.
Always label your containers with: WARNING SHARPS – DO NOT RECYCLE.
Never overfill a sharps disposal container. No materials should be sticking out of the top.
Never force materials into a sharps container.
Never put sharps in the garbage or recycling.
Where to take sharps in Clark County (free for residents)
Call ahead before you make a trip.
Central Transfer and Recycling Center
11034 NE 117th Avenue, Vancouver 360-256-8482
Monday – Friday, 6am – 6pm
Saturday & Sunday, 8am – 4pm
West Van Materials Recovery Center
6601 NW Old Lower River Road, Vancouver 360-737-1727
Monday – Friday, 6am – 6pm
Saturday, 8am – 4pm
Washougal Transfer Station
4020 S Grant Street, Washougal 360-835-2500
Monday – Friday, 7am – 5pm
Saturday, 8am – 4pm
Drug Take Back Events are held twice each year throughout Clark County. Visit Prevent Coalition for more information.